Y6 JHa - Can't see the forest for the children
Y6 JHa - Can't see the forest for the children
17 September 2021 (by Joe Hamill (joe.hamill))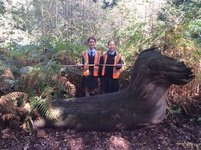 What a week! We've had everything from dice in maths to sparks flying in science, all with a trip to Sherwood Forest thrown in for good measure. Absolute scenes in Y6!
The pictures should all be in the gallery now and I think they speak for themselves about what a wonderful time we had on our trip and throughout the whole week.
Another triumph! Bravo Y6JHa, you nailed it again.
WELCOME MEETING:
The Y6 welcome meeting will be on Monday (20th Sep) and 4pm, live and direct via Google Classroom. We'll send a link out on the day, so watch this space!
Have a lovely weekend
Mr Hamill