Y2 AWi - Super Spelling Investigation
Y2 AWi - Super Spelling Investigation
20 September 2021 (by Andrea Wigley (andrea.wigley))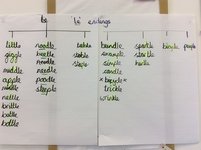 Today, we became spelling investigators! We looked at whether all words which end in 'le' have a double consonant before the 'le' ending. We sorted lots of words into which ones have a double consonant.
After lots of chatting, we decided that most words do not have a double consonant. But we decided those that do have a short vowel sound. We also made a rule that we only double the consonant where the ending is dle, ble, gle, zle, fle, ple and tle.
I am so impressed with how well everyone did.
Your homework is to now continue to investigate words which use the 'le' spelling and find out - 'What do you notice?'
Good luck Year 2!