F2 LPe - Our first week at school!
F2 LPe - Our first week at school!
20 September 2021 (by Lauren Wood (lauren.wood))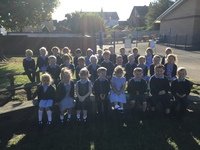 Wow, I am so impressed with how quickly the children are settling in to St Mary's. We have been learning all about what happens in Foundation and getting to know our new friends. We have been busy doing lots of choosing in our classroom and outside area - take a look at our class gallery for some pictures of this!
Last week, our golden rule was to 'be respectful' and we showed this by being respectful of our classroom by looking after it and tidying up. All of the children managed to get themselves onto our recognition board for being respectful, so our treat time was a movie! Well done everyone! This week our golden rule is 'work hard'. We are showing this by trying our best in our jobs that we do. I wonder what our treat time will be this week...?