F2 LPe - PANTS
F2 LPe - PANTS
22 September 2021 (by Lauren Wood (lauren.wood))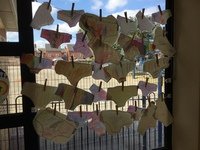 Today we talked all about how to keep ourselves safe using the NSPCC campaign PANTS. We watched the Pantosaurus song and talked about what parts of our body are private, using the scientific names.
mouth

chest

boys have a penis, girls have a vagina

bottom
We learnt that if someone asks to see or touch our private parts, we tell them 'no' and tell a grown up who we trust. We made pants to remind us of these important rules. Please see the links below for more information.
Pantosaurus - https://youtu.be/-lL07JOGU5o
PANTS Parents Guide - https://www.nspcc.org.uk/globalassets/documents/advice-and-info/pants/pants-2018/pants-parents-guide-online.pdf