F2 LPE - Guinea pig treat time!
F2 LPE - Guinea pig treat time!
27 September 2021 (by Lauren Wood (lauren.wood))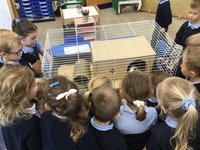 On Friday, Mrs Perkins brought her guinea pigs to school! Their names are Buttercup and Pumpkin, and they used to be the school guinea pigs. We learnt all about them - what they eat, what they like to do, and how to look after them. The children asked lots of questions and told us lots of facts that they had learnt.
In the afternoon, our Friday treat time for getting onto our Recognition Board was to hold the guinea pigs! The children were very gentle and Buttercup and Pumpkin enjoyed getting lots of cuddles. Please see the gallery for lots of pictures of our guinea pig treat!