Y5 NTu - Superstars!
Y5 NTu - Superstars!
5 November 2021 (by Nicola Turner (nicola.turner1))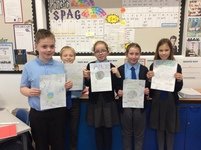 We have had a super start to term 2. The children have returned with brilliant attitudes, and it has been a pleasure seeing their enjoyment of their learning.
Here are just some of the things we have been thinking about this week.
In maths, we have been learning about multiples, factors, prime numbers and composite numbers.
In our Science lessons, we have been looking at and evaluating evidence about the shape of the Earth. We have also learned about the planets in our Solar System today.
In RE, we have continued our learning about the different ways in which we can live out our missions in our daily life. This week's focus has been on the Sacrament of marriage and how some people are called to live out their mission within marriage.
Yesterday, we also attended the Anti-bullying assembly and when we returned to class, we thought about what we could do to be anti-bullying heroes. The children had excellent ideas. I'm sure they would be happy to share their thoughts and ideas with you.
Next week, we will be concluding our Science topic and moving on to learning all about the USA. The children might like to start thinking about any USA themed projects they may wish to carry out at home. These could be Powerpoints, quizzes, 3D models, fact files, mini films etc. The choice is endless…
I would love to see them throughout the term when they are finished.