Maths Week Whole School Competition
Maths Week Whole School Competition
8 November 2021 (by Amelia Stanley (amelia.stanley))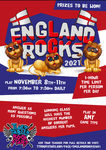 For Maths Week we will be taking part in a friendly competition involving schools from England from today until Thursday 11th November. It's all done online via play.ttrockstars.com.
For every correct answer to a multiplication or division question, your child will earn their class a point.
All game modes (Gig, Garage, Studio, etc.) will count but only from games played between 7:30AM and 7:30PM on Monday 8th, Tuesday 9th, Wednesday 10th and Thursday 11th. To support wellbeing, there is a daily time limit of 60 minutes per child. Once the child goes beyond 60 minutes of play on a given day, they will still earn coins but will no longer earn points towards the competition.
There are some prizes for the highest scoring class nationally - so let's all have a go!!
Good luck!