Y1 SBaAAr - Week 2
Y1 SBaAAr - Week 2
8 November 2021 (by Sarah Barlow (sarah.barlow))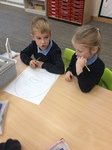 Week 2 is upon us and the Nativity rehearsals are well underway! If your child has a speaking part, they will bring home some words soon.
Today, a letter went out about our pantomime trip! Very exciting!
We are learning about addition and subtraction within 20 this week using different strategies, such as counting on/back and making ten.
We have learnt lots about penguins in our English lesson today - check out the gallery for some photos of us working as a team!
Please send back any booster group reply slips promptly and remember to book a parents evening slot :)