Y4 ATaKHo What a busy week!
Y4 ATaKHo What a busy week!
12 November 2021 (by Kathryn Holmes (kathryn.holmes))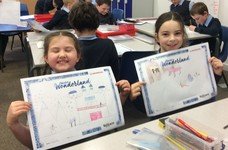 Well done year 4 on yet another amazing week!
The children have worked hard on their description this week and have been designing and describing a class monster in the style of the Ancient Greek myths. We had some truly terrifying descriptions and the children have really impressed me with their use of ambitious vocabulary.
In Maths we have been continuing to master a range of multiplication strategies and the children are really growing in confidence with this. A number of children were unsure of their Timestable Rockstars log ins so we have written them in the planners. If your child is struggling to remember theirs or there are any problems let me know.
This week we became musicians and explored making music that would represent the different seasons. We had some really successful beats and melodies. We experimented with volume and tried to mimic the sounds of that season. There are some photos on the gallery of the children having a great time with the instruments.
We are also lucky enough to have been invited to take part in a winter wonderland drawing competition so the children have created some beautiful pictures that show everything we love about winter. Have a look at the examples on the photos :)
A reminder about homework - if your child is struggling please let us now via the planner or ask your child to talk to use at break time. We are here to help.
Just a couple of reminders -
Monday is odd socks day as part of Anti-Bullying week.
Monday & Wednesday are parents evenings appointments.
Thank you - have a lovely weekend!