Y3EWi - Diabetes Day
Y3EWi - Diabetes Day
19 November 2021 (by Emma Williamson (emma.williamson))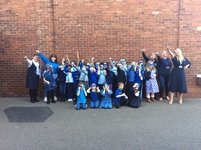 Thank you so much to all of the children for dressing in blue today. You all look amazing and we're helping to generate a discussion about a disease which needs more recognition, so thank you.
We've had a brilliant morning learning all about type 1 diabetes is and how a person can deal with it. Mrs Brown came in to speak to us to answer any questions we had and to show the equipment that she needs and how it works. Unfortunately, Luca wasn't in school today but he did join us to read a story all about type 1 diabetes, so thank you Luca!
We made superhero masks in the colour blue to show that we think people who have diabetes are superhuman. I've uploaded some images to the gallery for you to see.
Miss Williamson.