Y4 ATaKHo 'Kind'day Friday
Y4 ATaKHo 'Kind'day Friday
19 November 2021 (by Kathryn Holmes (kathryn.holmes))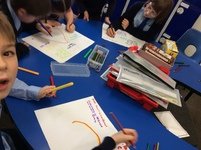 Another great week this week and lots of hard work and fun too!
Today the children have been history detectives and researched the Ancient Greek Olympics all in preparation for their writing next week.
In Maths we have been mastering short division (the method formally known as bus stop) and have had real success with some children using this method to investigate statements and see if they are always, sometimes or never true.
We were also lucky enough to go to a book fair today where we each received five books as part of our PTFA run book swap. Thank you for all your kind donations. The children have loved picking books for themselves and for their siblings and buddies.
We have also spent this week focusing on being kind as part of Anti - Bullying week. Year 4 have shown great maturity and kindness throughout these sessions and worked on 7 rules for kindness or rainbows of kindness - see our gallery for some images.
A few reminders:
Mon & Wednesday are parents evening - you should have received a note about this this evening. Please feel free to write a note in the planner if you are having any issues with this and require a phone call.
Wednesday the children need to bring pajamas as well as their swimming kit for swimming - this is for life saving activities.
Have a well deserved rest this weekend :)