Yr5 NTu
Yr5 NTu
26 November 2021 (by Nicola Turner (nicola.turner1))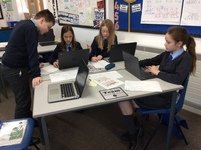 Good afternoon.
The children have had a very successful week. We have managed to finish our models with moving animals (using cam mechanisms).
The children have also worked extremely hard to finish their state Powerpoints. Please visit Google classroom to see how well they have worked within their teams.
I have also added some photos in our gallery of the models and of our superstar workers.
Have a lovely weekend.