Y3 SBr - Bikeability
Y3 SBr - Bikeability
26 November 2021 (by Suzanne Britch (suzanne.britch))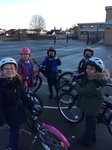 I think the comments from the children say it all!
They absolutely loved it!
"I learned that a light on a bike is called a reflector." Isla-Mae
"I enjoyed it because I learned how to stop when a red light was on." Nell
"I learned how to ride straight." Jan
"I have improved by riding a very big bike and I have learnt about road safety." Imogen
"I learnt how to stop and go." James
"I learnt how to indicate and ride on-handed." Jacob
"I learnt how to steer." Lily
"I enjoyed learning biking because at first I couldn't ride my bike, but now I just need a head start then I can ride." Thea
"I first started off not knowing how to ride. Then I improved, now I know how to." Ava
"I loved it because we learnt so much. We learnt how to stay safe and we learnt how to keep others safe, thank you." Eve
"I enjoyed bike training because I liked going at high speeds." Oliver
"It was excellent because I didn't know how to turn in traffic." Henry
"I loved it! I now know how to get on and off a bigger bike." Ruby
Thank you Qualitas!