Y1 - STICKS
Y1 - STICKS
26 November 2021 (by Sarah Barlow (sarah.barlow))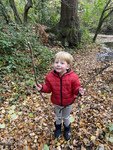 Soon we will be starting our new book, Stickman, and next week we will start by making our own Stickmen!
Could children please find and bring a stick by Tuesday (we will have spares if they don't manage to find one). Bonus points if it looks like it's got legs already!

They need to be thick enough to stick things on etc - thank you!