Y6 MHe - Let There Be Light
Y6 MHe - Let There Be Light
26 November 2021 (by Mark Hemsley (mark.hemsley))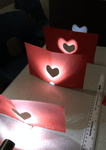 It's been another great week in Year 6. We started a new maths unit on fractions and wrote a brilliant letter to Mr Bolsonaro (Brazilian president) to persuade him to do more to stop deforestation.
The highlight of the week was the science experiment in our topic 'Light'. Our investigation: does light travel in a straight line? Yes. Yes it does. The children demonstrated this during the experiment by creating a tunnel for the light to pass through. Head over to the gallery for all the pictures.
Have a great weekend all, see you Monday!
Mr Hemsley