Yr5 NTu - Advent celebration!
Yr5 NTu - Advent celebration!
15 December 2021 (by Nicola Turner (nicola.turner1))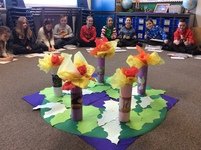 Today, I was extremely proud of every member of our class. While looking amazing in their Christmas jumpers, they produced a beautiful, thoughtful class worship about Advent. Their strong understanding of the scripture studied this topic and their ideas about how we can prepare ourselves for Jesus' birth by being more like King David were very impressive.
Following this excellent service (and before and after our delicious Christmas lunch), the children then spent a great deal of time writing their super 'flying turtle' stories (I'm sure they will be happy to explain these to you). I am very much looking forward to reading the finished versions tomorrow.
Have a lovely evening.