Y5 Anglo Saxon / Viking Day Experience
Y5 Anglo Saxon / Viking Day Experience
11 January 2022 (by Joanne Eades (joanne.eades))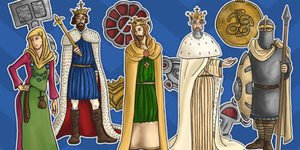 On Friday 28th January 2022, we have the Longship Company coming into school to provide an Anglo Saxon/Viking day for the Year 5 children. This will be a fun packed day of learning about Anglo Saxon and Viking life.
Children are invited to dress up in Anglo Saxon or Viking costumes if they wish too.
We ask that you make a voluntary contribution towards this event of £6.50 per child (payable on Parent Pay) to cover the cost of the visit. If there is not enough funding for the event, then unfortunately it will have to be cancelled.
Deadline for payment on Parent Pay and permission slip is Monday 17th January 2022.
Fill in the online permission slip:
https://www.st-marys.derbyshire.sch.uk/parents/y5-parents-reply-slip-viking-day
Follow this link to view our letter:
https://www.st-marys.derbyshire.sch.uk/parents/letters-to-parents