F2-Tdo : Week 2
F2-Tdo : Week 2
21 January 2022 (by Teresa Doohan (teresa.doohan))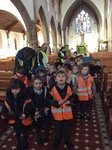 This week we have been learning all about people who help us. The children played a Kagan game called Stand up , pair up and named as many people as they could. The children were encouraged to use their phonic knowledge to sound out words such as doctor, dentist, nurse etc. Continue to practise the sounds and special friends at home as this really does help to improve their sounding out and writing skills. We looked at a book about people who help us and learnt some new vocabulary - sturdy, stacking and scrub. The children were encouraged to use these words in the water tray to clean and scrub the dishes and when building, to make sure that their construction was sturdy enough. Explain new words at home when you read books together to develop your child's vocabulary.
On Monday, during RHE ( Relationships & Health Education) the children listened to a short story about Freddy Teddy and his friends to discuss experiencing different feelings. The children discussed how they are feeling, what feelings can look like and why they might be feeling them. They will also worked on empathy and understanding of others, and how to help. All week, we have had a caring cross in our classroom and we have coloured in one square each time we have noticed a child or adult caring for others.
We have revised the special friends in phonics and the children were encouraged to choose three pictures, identify the correct special friends sound and write words such as chips, shin, shop, fish and thin. During Art they experimented with primary colours to create secondary colours.
On Wednesday, we went to The Annunciation Church to learn all about the different objects used during celebrations. The children learnt all about the font, crucifix, organ, pews and the bible. I was so proud because they followed my instructions of being calm and quiet in God's house. Look at the photos in our gallery and see what your child can remember about our tour around church.
During mathematics, we revised the number names from zero - ten and used ten frames and number tracks to show one more or one greater than and on Friday, one less or one fewer than. Practise counting objects at home and see if your child can count up to 10 accurately and use the vocabulary one more/greater or one fewer.
We are focusing on listening carefully to the teacher and following the Golden Rules. The children who were following the golden rules were put on the recognition board and enjoyed their 'Doohan's Disco' and a game of shark on Friday.
What a busy week! Look at photo gallery to share your child's learning.
Thank you for all your support,